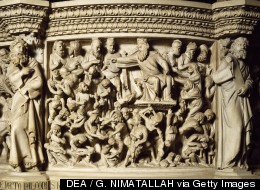 [Author's note: Yes, I know that I should be grateful that John McCain wasn't elected in 2008 because he would have had America in the middle of WW III by now and there probably would have been bunkers and anti-aircraft missile launchers
(

and also lots of American dead babies)

outside my bedroom window instead of just robins, but still...we are already up to our necks in wars, proxy wars and dead babies as it is -- and I'm sick of it.]
President Obama and Congress may hate each other's guts regarding a whole lot of domestic issues -- but with regard to foreign policy, Obama and Congress just can't kiss each other's butts fast enough when it comes to agreeing to kill as many babies as humanly possible in as many foreign countries as they possibly can. And ASAP.
Obama and Congress spend American taxpayers' money on killing babies in foreign lands like there is no tomorrow; as if all our hard-earned money could just magically and automatically replenish itself overnight like some magical ATM that never stops working, an inexhaustible resource that has no limits or end.
"Seven trillion dollars gone forever? No problem. It'll grow back.
The important thing here is to keep producing all those dead babies." Can't stop now. There are still a few left alive.
Dead babies in Iraq, murdered by ISIS, weaponized and trained by Obama and Congress.
"Just collateral damage that got in the way of the oil. Again. Pesky babies." http://www.theguardian.com/world/2014/jul/18/iraqi-civilian-death-toll-5500-2014-isis
Dead babies in Pakistan, Yemen, Somalia, Sudan and, hopefully, Iran next. "Those babies possessed WMDs!"
I want no part of any of this.
Do you?